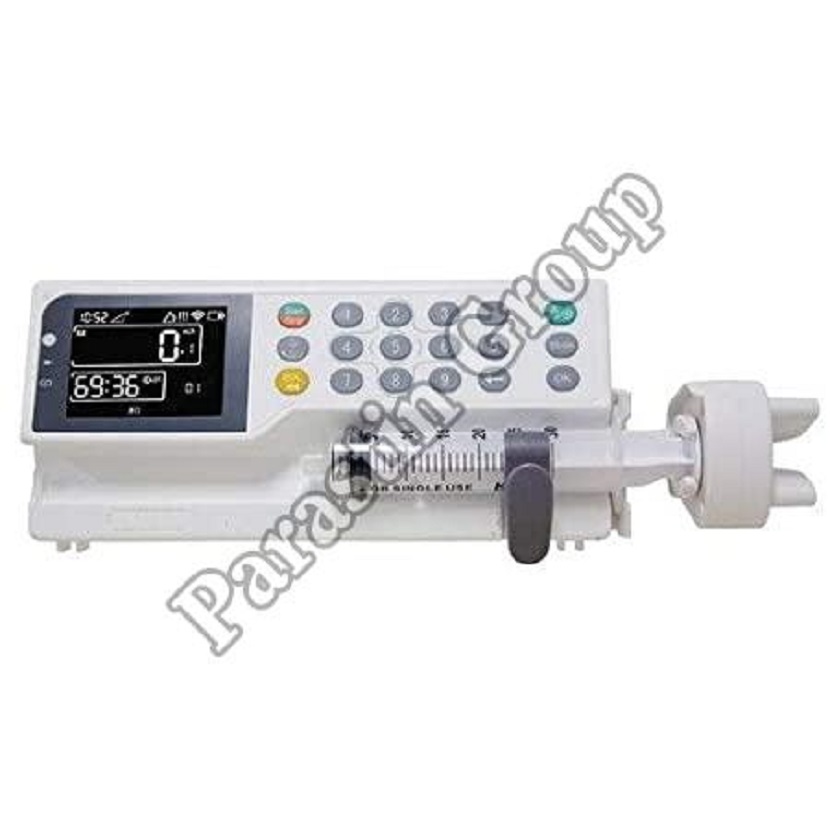 Syringe pumps by the Syringe Infusion Pump Exporters are being used to control a limited variety of liquid flows in a cost-effective, configurable, and adjustable way. Syringe pumps are commonly used in the medical industry to provide medications continuously. Syringe pumps, on the other hand, have widened their uses and moved into the research area in recent decades.
As technology progresses toward automation and downsizing, "smart pumps" have been produced, bringing adaptability to research as well as improved accuracy, precision, sophisticated digital data retention, access to dose recommendations, and remote administration.
Overview
An infusion pump is a diagnostic tool that administers fluids into a patient's body in regulated amounts, such as nutrients and drugs. Infusion pumps are commonly used in clinical settings including hospitals, care homes, and private residences.
In general, an infusion pump is controlled by a trained operator who uses a built-in software interface to configure the rate and duration of fluid administration. Infusion pumps have a number of benefits over manual fluid administration, including the ability to give fluids in extremely tiny quantities and at precisely programmed rates or automatic intervals. They can administer nutrition or pharmaceuticals like insulin or other hormones, antibiotics, chemotherapeutic treatments, and pain relievers, among other things.
The Benefits Of Syringe Pumps:
Syringe Pumps Have A Wide Range Of Design Options Depending On The Application:
Syringe pumps come in a variety of shapes and sizes, depending on the purpose. Depending on the uses, it may be capable of either extraction or infusion, or both extraction and infusion. Multiple syringes can be accommodated by some syringe pumps. They have the potential to function at very low volumetric flow speeds ranging from millilitres to picoliters while retaining extremely high accuracy.
A Variety Of Experimental Parameters Are Controlled Via Syringe Pumps:
Various parameters may be efficiently regulated in current syringe pumps to meet experimental specifications:
Syringe pumps provide the ability to regulate pressure, making it easier to handle viscous liquids.
Temperature control is provided using syringe pumps with heaters.
To optimise use, certain syringe pumps allow you to swap between multiple syringes.
Most current syringe pumps may be configured for increased precision and control, and some units can be linked to a computer to be managed and record infusion or removal history.
Syringe Pumps Aid In The Objective Analysis Of Survey Data By Reducing Error:
In analytical equipment such as high-performance liquid chromatography (HPLC), mass spectrometry (MS), and liquid chromatography-mass spectrometry (LC-MS), syringe pumps play a critical role in avoiding errors. Syringe pumps substantially help research in microfluidic applications and microenvironmental domains due to their precise metering capabilities.
Syringe Pumps Have a Lot of Benefits:
Syringe pumps are quick and simple to use.
Syringe pumps enable the participants to choose the total volume of fluid to be delivered and to do it at a precise rate.
To execute the experiment, high-pressure syringe pumps can establish a goal pressure or maintain a constant pressure.
Even with variable resistance in an experiment, the mean flow rate of liquid in a syringe pump stays constant.
When choosing a syringe pump for your test design, it's critical to keep the following main factors in mind. Syringe pumps, as is well known, are distinguished by their durability and reactivity. The flow consists of a syringe pump is determined by the smallest movement of its motor, whereas responsiveness is determined by fluidic mechanics, impedance, and the conformity of the original experiment. The experiment settings should be within the syringe pump's range to ensure the optimum response with a syringe pump.
Finally, in many advanced research domains, Syringe Infusion Pumps are beneficial for speeding up research and reducing mistakes that might arise during fluid distribution.